2nd Timothy 1:5 (approximately A.D. 60)
I am reminded of your sincere faith, which first lived in your grandmother Lois and in your mother Eunice and, I am persuaded, now lives in you also. [NIV]
1st Baptist, Temple, Texas (A.D. 2/10/19)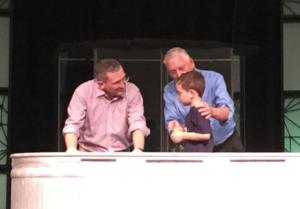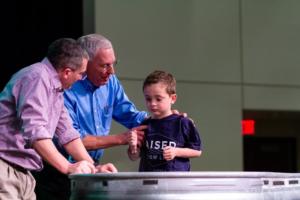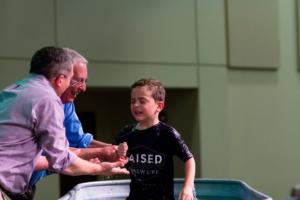 Three generations join in the baptism of John Mark McNeal.  Grandfather Skip McNeal had the privilege of baptizing yet another in his family.  Assisting is John Mark's father, Mike, who is Skip's son.  Behind the scenes is John Mark's mother, Tresa, who took these pictures.
Skip might have been a little surprised to find that the church had no baptistry.  Instead, a mobile horse trough was brought into the sanctuary for the ordinance.  However, he probably wasn't as surprised as John Mark was, upon finding the heating mechanism had failed and the water was REALLY COLD!  But now, it's a baptism he'll always remember.
God bless John Mark, and our interim pastors (Skip) who continue to make a difference at home and at church.
Romans 6:4. "We were buried therefore with him by baptism into death," . . . John Mark's shirt completes the verse!
Amen and PTL.