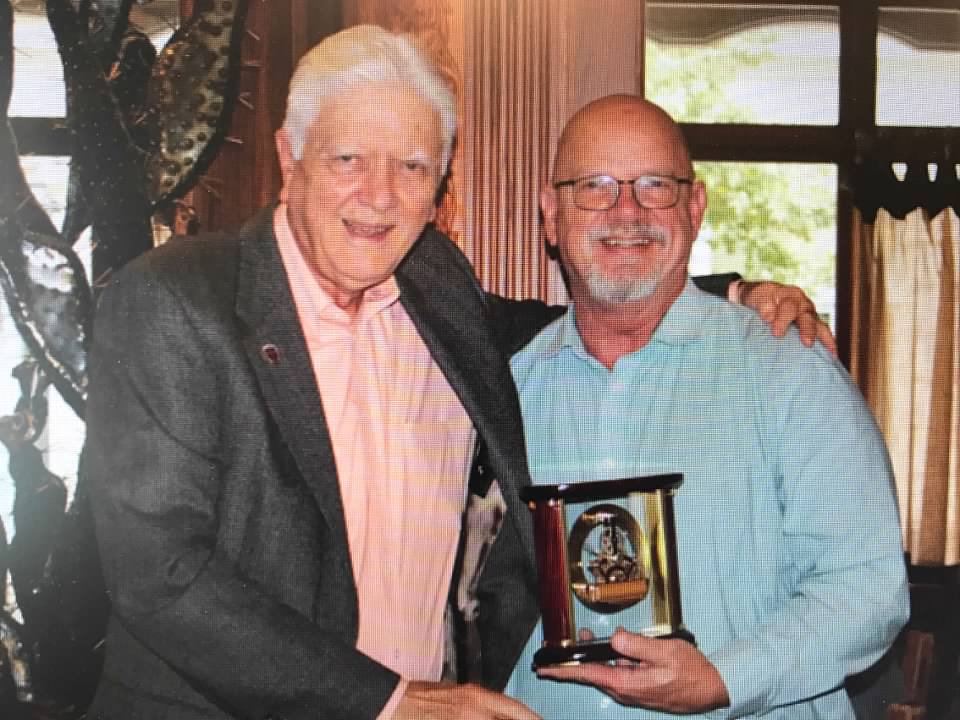 Congratulations to Dr. Paul Atkinson (on the right of the photo), our 2021 recipient of the "Maples, Williamson, Daehnert Award."
On November 4th, a small circle of family and friends gathered to celebrate this occasion. Dr. Jan Daehnert (on the left of the photo) is one of the founders of the Intentional Interim Ministry (IIM) in Texas Baptist life. In fact, the award bears his name and the names of Dick Maples and Charles Lee Williamson. Jan shared from his wisdom and experience before presenting the award to Paul. Thank you, Dr. D.!
Paul Atkinson then responded with his life verse, passion, and process. Paul leads someone to Christ, then disciples that one to lead another to Christ. Not only is this an effective pattern for planting churches, Paul's full-time ministry, it has also proven to be an important tool in interim ministry. All of the churches Paul has served as interim pastor have grown during his tenure, and they've continued to grow when the new pastors were called. Congratulations to Paul Atkinson! We are blessed to call him a partner in the BGCT's Intentional Interim Ministry Network . . . and a true friend.
Paul joins previous recipients: Wallace Watkins, James McGlothlin, Nolan Duck, Les Robinson, Fred Meeks, Jim McLeod, Skip McNeal, Dwight Reagan, Levi Price, Rusty Walton, and Dean Dickens.